I have just published Every Leader's Reality Guide and I am overwhelmed by the very positive feedback from so many people ( My book is available on www.michaelmoriarty.ie). While my book has been endorsed by some national and international leaders I am humbled that  many readers also find my book to be really helpful.
I have been asked by some readers why I wrote this book and to answer that I need to tell you a bit about myself (you can learn a lot about my leadership journey in Every Leader's Reality Guide ).
To understand my motive for writing my book you need to understand some of the influences on my life and career. As a young boy back in the 1960's I was very aware that it was a time of renewal and hope. John Fitzgerald Kennedy was elected the youngest president of the United States ; he was charismatic, youthful and good-looking. He was an amazing communicator and his speeches were inspiring and uplifting.  I was very young then but nevertheless  I was enthralled by his demeanour and by his words of hope.
His presidency ended tragically and my heart was broken. Some years after his untimely death his brother Robert campaigned for the presidency and he too was brutally assassinated. Then another inspiring and brave orator, Martin Luther King,was the focus of my admiration until he also was shot dead.
Thus the decade of hope was also the decade of tragedy. These were inspiring men who preached about equality and justice but all were gunned down. Nevertheless, each had a profound influence on me and inspired my interest in leadership from an early age. That interest was cemented by Ted Kennedy's famous 1980 speech " The Dream Shall Never Die" which is still remembered as one of the great speeches of the 20th century.
In my home I was also inspired by another leader-my own father John.  He was a politician, who in public life, fought against injustice and inequality and to this day is remembered as a man of exceptional fortitude. From an early age I helped at election times and fully engaged in his election campaigns. At age 17 I was already speaking at public meetings on his behalf
Therefore, I saw or experienced leadership from many perspectives from an early age. I was interested in leadership and I was interested in leading others but the theory of leadership proved to be a far cry from the effective practice of  good leadership.
As I explain  in Every Leader's Reality Guide, there can be a difficult learning journey to become a good leader and my book explains what you need to do to be an inspiring and trusted leader. And leadership is not for the privileged few, it is for everyone. You are a leader in your home, in your community or in your workplace if you express an opinion or have a viewpoint on any issue of concern.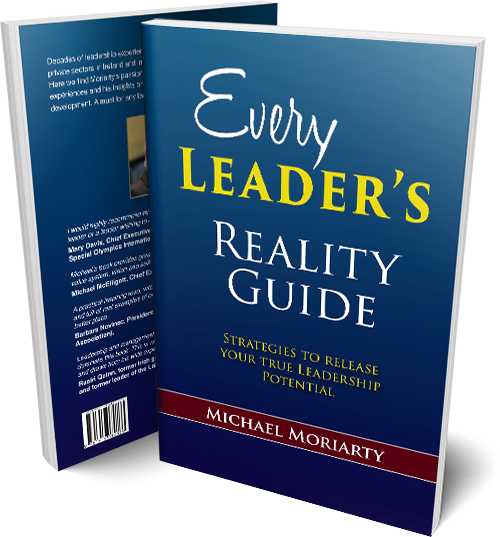 That is why we all need to know about leadership and many of us might not realise we are leaders of value until moved to action on some particular issue thereby becoming  "accidental" leaders.
In my later school life I had to learn to be courageous and to stand up for myself. I endured bullying until I stood up for myself. I learned from an early age that I should never allow others to put me down.
As a young leader I had a lot to learn. I had to learn to respect people as individuals and to understand that they needed to be supported and understood. I had to learn to deal with some people who sought to marginalise or isolate me. To this day, I am grateful for such experiences as they taught me to  endure, to be patient and to be resilient.
To be a good leader you need to learn about yourself . In the words of Buddha; We are shaped by our thoughts; we become what we think. Often we are our own worst enemy because at times we view our world through a negative lens rather than a positive one.
Self-respect is about self-value. I realised from an early age that If I did not value myself then why should I expect others to do so  Know that you are a person of worth because we all have gifts even if they are not obvious to us. Self-discovery is a prerequisite for good leadership.
I learned to have self-belief because I had no other viable option. I had to value myself before others would see value in me. I worked at developing that inner strength and I think I communicated that to others.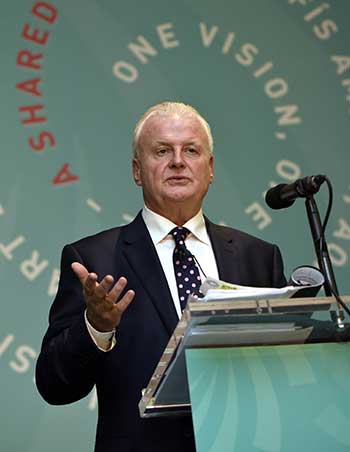 I remember when I applied for the position of General Secretary of the Irish Vocational Education Association I was determined to show that I was the only person that should have that post. I communicated my strong self-belief and can-do attitude . I was going to be dynamic yet prudent;I was going to lead with vision and commitment. More than words, my attitude communicated I could be the leader that was needed. This is why you always need to show that you really and truly believe in yourself. In doing so you will ensure that others will believe in you too.
In my subsequent leadership journey as as  General Secretary of Education and Training Boards Ireland and as President of the European Federation of Education Employers I have used all the skills I have learned over many years. Yet I am still learning because the leadership journey never ends.
Learning is lifelong but in 37 years of senior leadership, in both the public and private sectors, I have learned a lot about good leadership which I have tried to show in my book. Key to leadership learning is a realisation that the journey begins with self-examination. As Leo Tolstoy once said; Everyone thinks of changing the world,but no one thinks of changing himself. 
Every Leader's Reality Guide is about releasing your true leadership potential. I hope my book will help you and many others to do just that.